The faster, easier way to equip your science classroom
How do you find fun projects and quality supplies
for your science classroom?
Use our FREE Essental & Customizable Supply Lists for the Science Classroom.
Developed with the help of experienced educators, this easy-to-use tool makes outfitting your entire physics or chemistry classroom and creating engaging lessons a breeze.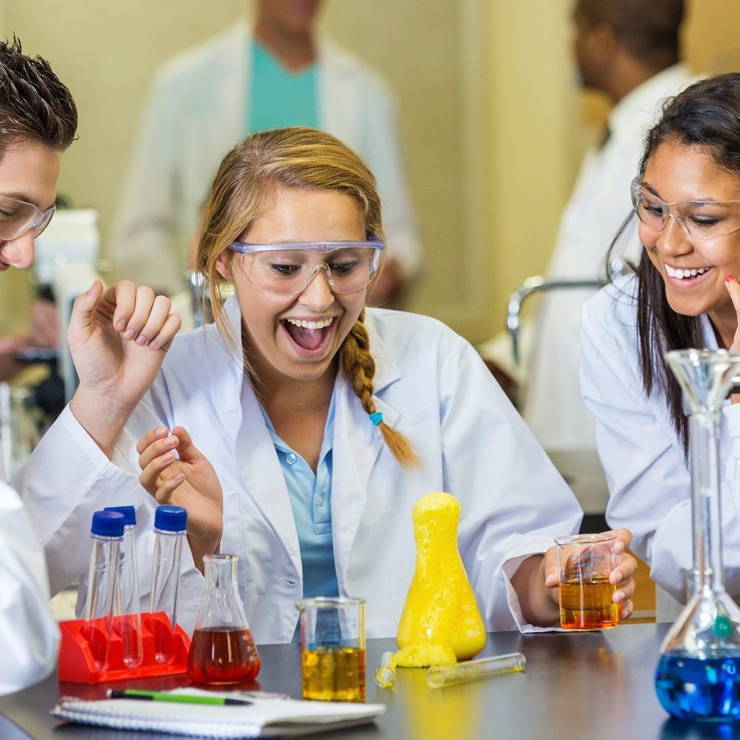 Are you in the beginning stages of setting up a new classroom or

just

need to update old equipment in your Physics, Physical Science, or Chemistry classroom

?

Finding a list of the products to stimulate the mindset of teachers and students can be difficult

.
We developed our science classroom equipment and supply lists with the help of experienced educators to

eliminate

the hassle of it all

. Pre-populated with everything needed to elevate the teaching and learning experience.

Easily

find the right physics and chemistry labs, demos, and equipment to meet your classroom needs

.
Our pre-populated (yet

fully

customizable) lists allow you to save time. Add more items and the list

automatically

enters the proper quantities and pricing.

We even made it easy to stay within your budget and take full advantage of all our available discounts all in one place

.
---
Can I convert my list into a quote?
We made converting a List into a quote a simple process. Once your List is finalized, simply click the "Checkout / Create Quote" button and all the items will be automatically populated into your cart. On the cart page, you will be able to either create a quote or continue with the checkout process.
Are quantity discounts available?
Each line item will display the quantity required for a discount to apply. Both the discount price along with the total savings is displayed clearly on each line item. Adjusting the quantity will automatically update your total savings.
Can I adjust the number of student per group?
At the top of each List, you will have the ability to adjust the number of groups per classroom. Adjusting this number will automatically readjust each line item quantity. You can also manually adjust each line item quantity as well.
Can I remove an item from the list?
Simply adjust the quantity for the line item you don't need to "0" and it will not be included in your list.
Can additional products be added to the list?
If you need to add additional items to your list, simply navigate to the bottom of the section and enter the item you would like to add. It will automatically be added and you can manually adjust the quantity.
Can I save my lists for later use?
If you need to take a break from editing your list or just want to save it for later use, simply click the "Save For Later" button and your list will be saved to your User Account. For later access to your list, log into your account and navigate to the "Lab Builder" sections. All your saved lists will be located here.
What can these lists be used for?
Our prepopulated equipment and supply Lists for Physics and Chemistry are developed with the help of experienced educators to make outfitting your entire physics or chemistry classroom a breeze.
They can be used by districts to quickly populate a list of essential items needed for Physics or Chemistry classroom.

Use them as a tool to help you stay within your budget and take full advantage of all our available discounts all in one place.

Are you just starting out as a science teacher and not sure what classroom supplies you should have on hand? Out Lists are a great starting point.
Need assistance building a equipment? Our experts will assist you in selecting the right products for your classroom?
Meet Three of the educators behind our Lab Equipment List Builder
---

Mark Davids taught High School Physics for 37 years and has won several awards throughout his career including Excellence in Pre-College Physics Teaching (AAPT), Albert Einstein Fellowship (USDOE), Presidential Award (NSF and White House), Distinguished Physics Teacher (APS), Distinguished Service (MI-AAPT), and Outstanding Michigan Science Teacher (MSTA). He has been a leader in the Modeling in Physics pedagogy, and has authored, or coauthored, several works including the Physics Principles and Problems textbook. As part of a small team, Mark was one of two High School teachers that contributed to the development of the Physics standards in the State of Michigan. He has established himself as highly respected and accomplished educator and has passed on his vast amount of classroom experience through thousands of presentations and workshops, and continues to contribute to new and innovative product development.
Steven Rea has over 40 years' experience teaching high school AP physics and 12 years' experience teaching Physics at the college level. He was one of the early participants in AAPT's PTRA project (Physics Teaching Resources Agents), and has enthusiastically honored the program's goal of conducting extensive workshops on training teachers on updated Physics instruction. Steven loves a challenge, and expects the same from his students by offering just enough guided inquiry for them to confidently understand concepts and solve problems. His classroom creativity has yielded many innovative DIY "tools" that he has shared with a lot of his colleagues; some of which have transitioned into very successful commercial products like his Rotational Inertia Apparatus. Steven enjoys consulting in any capacity if he believes it will improve the quality of education.

Dwight "Buzz" Putnam is a recipient of the New York State Master Teacher Program Award and is certified to teach Physics, Chemistry, and Biology. He has taught both Physics and Science Teaching Methods at the College level, and has spent over 33 years teaching High School Physics and Nanotechnology. Buzz is a "teacher's teacher", and has been inspirational to many through his demonstrations at professional conferences. He thrives on "Making Science Phun Again", and runs a professional development service (The Fizziks Wizzard) where he uses humor, passion, and real-life applications to offer science workshops and training for teachers and students alike. A huge believer in hands-on experiences, Buzz has been responsible for several innovative products that are extensively being used nationwide, and is often engaged for his consultative insights and advice on product ideas, content, and classroom experiences nationwide.