THE ONECAR CLASSROOM KIT IS A STEM PROGRAM FOR ALL STUDENTS
The comprehensive OneCar STEM kit allows students to explore mechanics, energy, and motion and provides the opportunity to design, develop, and explore creative ways of propelling a car without any soldering. Each OneCar has a low-friction chassis, four wheels and supplies to allow students to create six to eight versions with different methods of propulsion. Students can use a solar panel, electric motor, capacitor, kitchen chemicals, compressed air, propeller and more to get the car moving.
Why STEM?
It is estimated that 75% of all jobs in the future will be in the STEM fields. STEM education is all about engaging students in these fields so they develop the necessary skills and nurture a positive attitude towards STEM.
How are science and engineering related?
Science is the systematic study and explanation of observed phenomena, building on previous verified results. In engineering, this knowledge is applied and integrated to bring about favorable outcomes for industry and society. Science and engineering usually involve a team effort, but engineering has practical outcomes whereas science generally has conceptual or theoretical outcomes. Furthermore, failure is used as a method to improve knowledge, inform design and expedite progress. This process is often referred to as the Engineering Design Cycle in engineering circles, and is a vital part of the scientific method in more research-based fields.
Why should we encourage students to tinker with technology?
Making and tinkering spurs imagination and motivates young people to excel in STEM subjects, preparing them for careers in design, manufacturing, entrepreneurship, and a host of different fields. Many students never get the opportunity to take apart or construct at home. Education has an obligation to expose students to creative hands-on experiences while building their problem solving and critical thinking skills. This allows students to move from being consumers of content to producers.
---
KEY CONCEPTS AND AREAS OF LEARNING
Key Concepts
Learning Areas Covered

Wheels, Levers, Axles & Pulleys

Potential (Elastic, Chemical, Air)

Kinetic (Wind, Solar, Electrical)

Reactions, Limiting Reaction

---
OneCar COMES SUPPLIED WITH THE FOLLOWING COMPONENTS!
1 Set of instruction sheets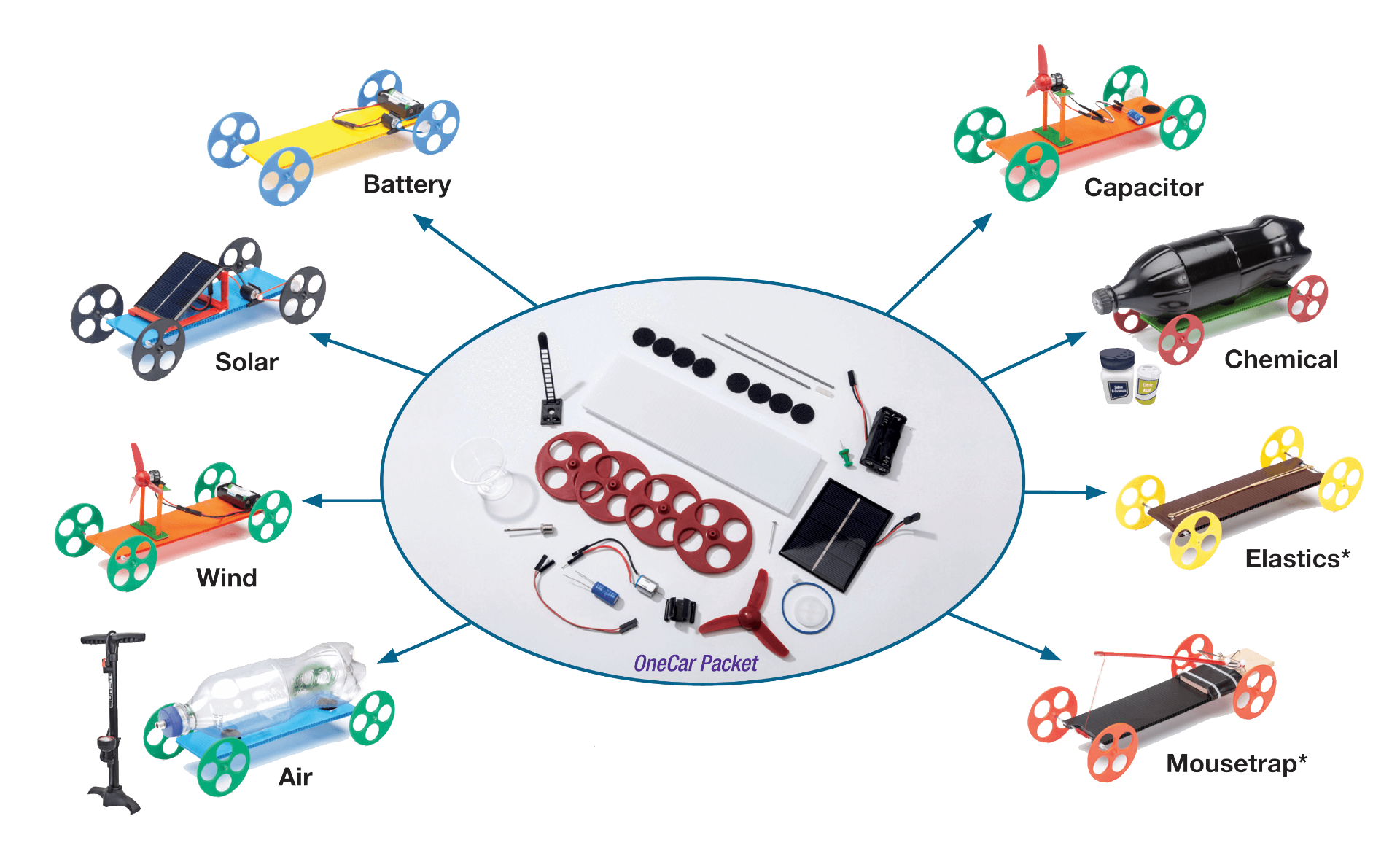 WHAT TO LEARN MORE?
THESE INSTRUCTIONAL VIDEOS WILL WALK YOU THROUGH THE PROCESS OF BUILDING YOUR OneCar FROM START TO FINISH.
---
How to make a compressed air powered OneCar
How to build a battery powered electric OneCar
How to make a elastics and mousetrap OneCar
How to build a solar & capacitor powered OneCar
How to make a chemical powered OneCar
How to make a propeller powered OneCar