Approximately $170 billion allocated to help students and educators
If your school is preparing to receive ARP funding, and you're looking for trustworthy resources that support meaningful demonstrations and hands-on learning opportunities, as well as supporting summer enrichment, and after-school programs, we can help.
How the American Rescue Plan Works
How will the ARPA funds be distributed?

$125.4 billion will be allocated for K-12.

Using the Title 1 formula, 90% of the funds will be distributed directly to school districts.

$39.6 Billion will go to higher education.

The remaining funds going to other educational programs and activities.



Can districts buy anything they want with the funding?


School districts can buy resources to address any of the following:

Summer Learning

Enrichment

Remediation, Differentiation, and Intervention Resources

Cleaning Supplies

Mental Health

Resources Promoting Access and Equity  

Technology



What is the deadline for spending funds?


The deadline for spending funds is October of 2024. Schools have three years to use the funding before it expires.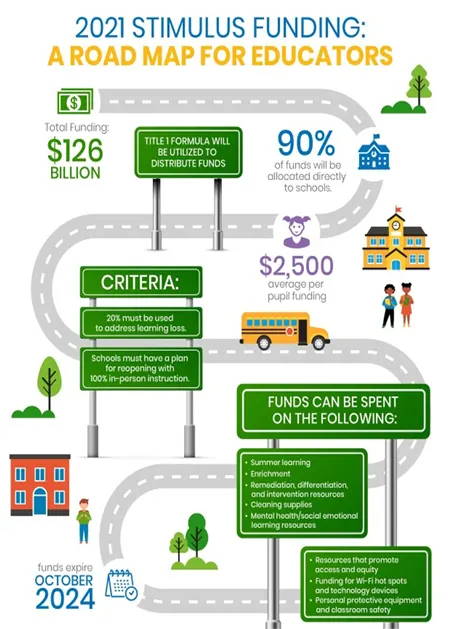 ---
Arbor Scientific offers a variety of tools and resources that make it easy for you to take full advantage of stimulus funds
Lab Equipment List Builder
Easily find the right physics and chemistry labs, demos, and equipment for your classroom, while staying within your budget.
We've made it easy to quickly create a printable quote that you can pass on to administration for approval.


Need help? No problem! Our experienced, knowledgeable staff can assist you in selecting the right equipment for your needs.

Why Choose Arbor Scientific?
We're committed to supporting science educators like you with meaningful and engaging lab demonstrations and hands-on experiences that not only inspire your students, but yourself as well. We understand your budget is limited, so we only provide products that offer value, without sacrificing quality. That's our promise to you.
---
Want help?
Simply fill out the form and we will contact you.
---
Want to learn more about the American Rescue Plan? Here are some links you may find useful.
---