Complete Set of Push-Pull Spring Scales
Item # P1-1090
Regular price
Sale price
On Sale

$55.00
Unit price
per
Sold out
Buy 6 and pay $51.00 each!
Get a complete set of our new Push-Pull Spring Scales. These unique spring scales include a specialized plunger that allows students to measure by pulling or pushing.
In Stock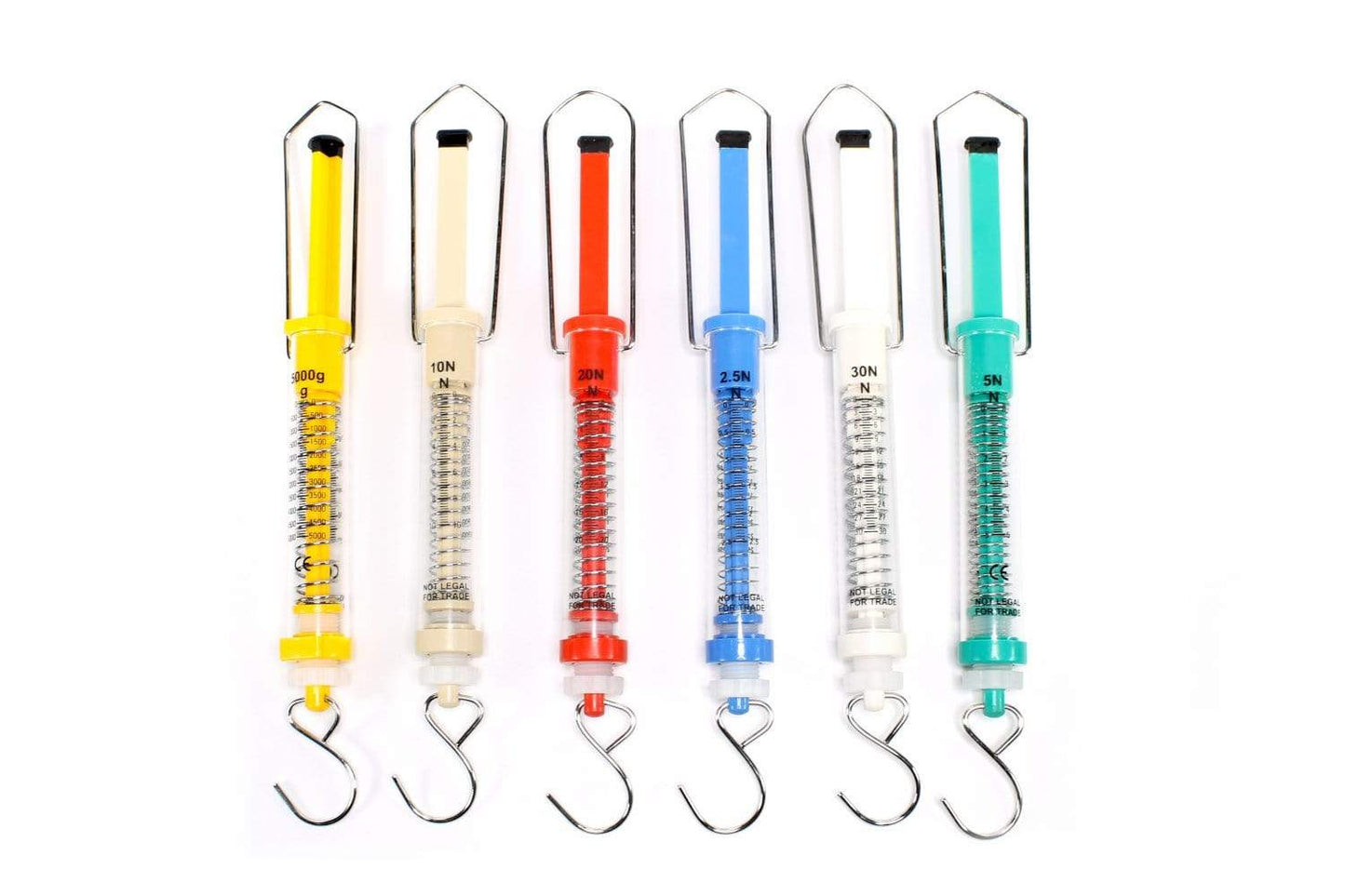 Additional Details
This set of six spring scales is perfect for measuring any pull! Each scale is marked in both grams and Newtons so you can choose the measurement that is right for your lab! There are a range of possibilities when using these spring scales since the smallest scale measures up to 250g or 2.5 N while the largest measures all the way up to 5000g or 5 N. Each scale is a different color so it is easy to find the right scale for your measurement. The scales come equipped with a dial on top that allows you to "zero" the scale and adjust for accuracy. No matter the pull, these scales will measure it!
Products being sold are not toys. They are for Educational / Laboratory use only. They are not for use by children 12 and under.
What's Included
250g Push-Pull Spring Scale
500g Push-Pull Spring Scale
1000g Push-Pull Spring Scale
2000g Push-Pull Spring Scale
3000g Push-Pull Spring Scale
5000g Push-Pull Spring Scale
Replacements
Order Qty
Price
Qty for Discount
Discount Price
Total Savings
250g Push-Pull Spring Scale Item #

P1-1091

$9.75
12
$9.10
500g Push-Pull Spring Scale Item #

P1-1092

$9.75
12
$9.10
1000g Push-Pull Spring Scale Item #

P1-1093

$9.75
12
$9.10
2000g Push-Pull Spring Scale Item #

P1-1094

$9.75
12
$9.10
3000g Push-Pull Spring Scale Item #

P1-1095

$9.75
12
$9.10
5000g Push-Pull Spring Scale Item #

P1-1096

$9.75
12
$9.10

250g Push-Pull Spring Scale

Item #P1-1091

Regular price

Sale price

On Sale

$9.75

Unit price

per

Buy 12 and pay $9.10 each!

Our 250g Push-Pull Spring Scale. This unique spring scale includes a specialized plunger that allows students to measure by pulling or pushing. Blue

500g Push-Pull Spring Scale

Item #P1-1092

Regular price

Sale price

On Sale

$9.75

Unit price

per

Buy 12 and pay $9.10 each!

Our 500g Push-Pull Spring Scale. This unique spring scale include a specialized plunger that allows students to measure by pulling or pushing. Green

1000g Push-Pull Spring Scale

Item #P1-1093

Regular price

Sale price

On Sale

$9.75

Unit price

per

Buy 12 and pay $9.10 each!

Our 1000g Push-Pull Spring Scale. This unique spring scale includes a specialized plunger that allows students to measure by pulling or pushing. Tan

2000g Push-Pull Spring Scale

Item #P1-1094

Regular price

Sale price

On Sale

$9.75

Unit price

per

Buy 12 and pay $9.10 each!

Our 2000g Push-Pull Spring Scale. This unique spring scale includes a specialized plunger that allows students to measure by pulling or pushing. Red

3000g Push-Pull Spring Scale

Item #P1-1095

Regular price

Sale price

On Sale

$9.75

Unit price

per

Buy 12 and pay $9.10 each!

Our 3000g Push-Pull Spring Scale. These unique spring scales include a specialized plunger that allows students to measure by pulling or pushing. White

5000g Push-Pull Spring Scale

Item #P1-1096

Regular price

Sale price

On Sale

$9.75

Unit price

per

Buy 12 and pay $9.10 each!

Our 5000g Push-Pull Spring Scale. This unique spring scale includes a specialized plunger that allows students to measure by pulling or pushing. Yellow

Item #

Regular price

From $19.99

Regular price

Sale price

On Sale

From $19.99

Unit price

per

Liquid error (snippets/modal-contents line 80): product form must be given a product