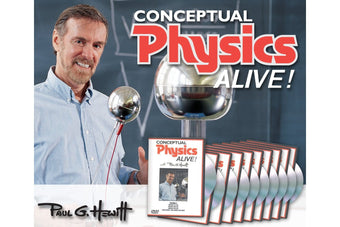 Conceptual Physics Alive! DVDs Group
Master teacher Paul Hewitt teaches noncomputational Conceptual Physics. Observe Hewitt teach in a classroom with real students, using engaging demonstrations and artwork. 34 episodes available on 10 DVDs.
PRODUCTS
Select product quantities then Add To Cart / Quote in bottom right.
Additional Details
Observe Hewitt teach in a classroom with real students, using engaging demonstrations and artwork.
10 DVD titles; 34 episodes.
Conceptual Physics Alive DVD #1
Introduction: Paul Hewitt talks about teaching physics conceptually and his earlier efforts at videotaping. 
Linear Motion: Concepts of speed, velocity, and acceleration are introduced and supported with a variety of examples.
Vectors and Projectiles: Vector addition and vector resolution are explained, using examples such as airplanes flying in the wind and projectile motion. 
Conceptual Physics Alive DVD #2
Newton's 1st Law: The law of inertia and the concept of mass are introduced and supported with a variety of examples and intriguing demonstrations, such as the tablecloth-and-dishes stunt. 
Newton's 2nd Law: The relationship of force, acceleration, and mass is illustrated with a variety of examples. 
Newton's 3rd Law: The notion that a force is a push or a pull is developed. 
Conceptual Physics Alive DVD #3
Momentum: Newton's 2nd law is rearranged to the form: Impulse = Change in Momentum. A variety of everyday examples, such as bouncing are used to support this impulse-momentum concept. 
Energy: Mechanical energy in its potential and kinetic forms is illustrated with demonstrations that include a bouncing dart, a pendulum, and a simple pulley system. 
Center of Gravity: The concepts of torque, center of gravity, and center of mass are applied to balancing.
Rotation: The concept of rotational inertia is developed from a variety of everyday examples and demonstrations using weighted objects, and rolling cans filled with both liquids and solids.
Conceptual Physics Alive DVD #4
Gravity I: The inverse-square law is explained and then related to the law of universal gravitation. 
Gravity II: The discussion of gravitation continues with the emphasis on the ocean, earth, and atmospheric tides.
3. Satellite Motion: The concept of simple projectile motion is extended to include satellite motion- first circular, and then, elliptical.
Conceptual Physics Alive DVD #5
Special Relativity I: A discussion on the concept of time dilation leads up to a showing of the 12-minute animated film "Relativistic Time Dilation." 
Special Relativity II: Length, momentum, mass, and Einstein's famous equation E=mc2 are discussed and supported with several fanciful examples.
Atoms: Bohr's atomic model is described, with emphasis on the smallness, emptiness, and plentifulness of atoms.
Conceptual Physics Alive DVD #6
Scaling: Surface area and volume are distinguished with simple demonstrations. 
Liquids I: The concepts of density, pressure, and the depth-dependence of liquid pressure are used to develop the concept of buoyancy. 
Liquids II: This tape expands on the discussion of Archimede's principle in the Liquid's I tape, with an emphasis on the law of flotation.
Gases: This demonstration-oriented lecture focuses on the atmosphere--its weight, pressure, and the buoyancy it exerts on objects.
Conceptual Physics Alive DVD #7
Heat, Temperature, and Expansion: Temperature and heat are distinguished from each other. 
Heat Transfer: Conduction is related to many everyday examples and is demonstrated by boiling water under a variety of conditions. 
Heat Radiation: The temperature dependence of radiation frequencies are related to the greenhouse effect. 
Heat: Change of State The concepts of evaporation and condensation are contrasted. 
Conceptual Physics Alive DVD #8
Vibrations and Sound I: A coiled toy is used to illustrate the difference between transverse and longitudinal waves. 
Vibrations and Sound II: The reflection, refraction, and speed of sound waves are explained.
Radioactivity: The differences between alpha, beta, and gamma radiation are discussed, with emphasis on balancing nuclear equations.
Fission and Fusion: Fission and fusion are distinguished and compared. Energy release from nuclear reactions is explained in terms of the resulting mass defects.
Conceptual Physics Alive DVD #9
Light and Color: The electromagnetic nature of light and the reason its speed changes when passing through transparent materials are explained. 
Reflection and Refraction: Mirrored and diffuse reflection are compared. Refraction is demonstrated using a water tank.
Light Waves: The interference of light waves is demonstrated with laser light, and related to the colors of thin films.
Conceptual Physics Alive DVD #10
Electrostatics: Electrostatic charging is demonstrated in a variety of ways--with a rubber rod, cat's fur, an electrophorus, a Whimshurst electrostatic generator, and a Van De Graaff generator. 
Electric Current: Concepts in electric current and examples of Ohm's law are discussed. 
Magnetism and E&M Induction: Electromagnets, motors, generators, and magnetic levitation are examined, using numerous examples and demonstrations.
Accessories
Order Qty
Price
Qty for Discount
Discount Price
Total Savings
Conceptual Physics Alive! Video Question Set: Complete Edition Item #

PX-0850

$59.00

Conceptual Physics Alive! Video Question Set: Complete Edition

Item #PX-0850

Regular price

Sale price

On Sale

$59.00

Unit price

per

The complete question set comes in an organized binder and offers ready-to-use quizzes correlated to each of the Conceptual Physics Alive lessons. With student and teacher versions for each DVD in the complete set, this guide keeps students engaged and teachers organized.

Item #

Regular price

From $19.99

Regular price

Sale price

On Sale

From $19.99

Unit price

per

Liquid error (snippets/modal-contents line 80): product form must be given a product