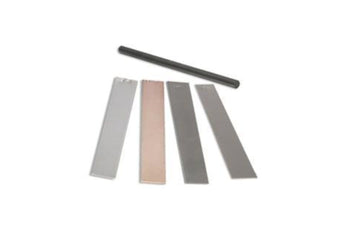 Electrodes Group
Economical metal electrodes. one each flat aluminum, copper, iron, zinc, and round carbon. Electrode dimensions: 125mm x 25mm.
PRODUCTS
Select product quantities then Add To Cart / Quote in bottom right.
Additional Details
Economical metal electrodes
Classroom set of electrodes. Includes 10 each of aluminum, copper, iron, zinc and carbon. Use electrodes for voltaic cells, electrolysis experiments, fruit batteries, etc. Each measures 125mm x 25mm.
Looking for reviews? This page represents a group of products, but many of the reviews of those products are on their individual product pages. Search for the product name to find individual products and read their reviews.