Foam Calorimeter, 10 Pack
Item # 93-2020
Regular price
Sale price
On Sale

$44.50
Unit price
per
Sold out
Say goodbye to stacked foam cups for your calorimetry experiments! These thick-walled, 400 mL foam calorimeters are an inexpensive way to carry out accurate and well-insulated activities.
In Stock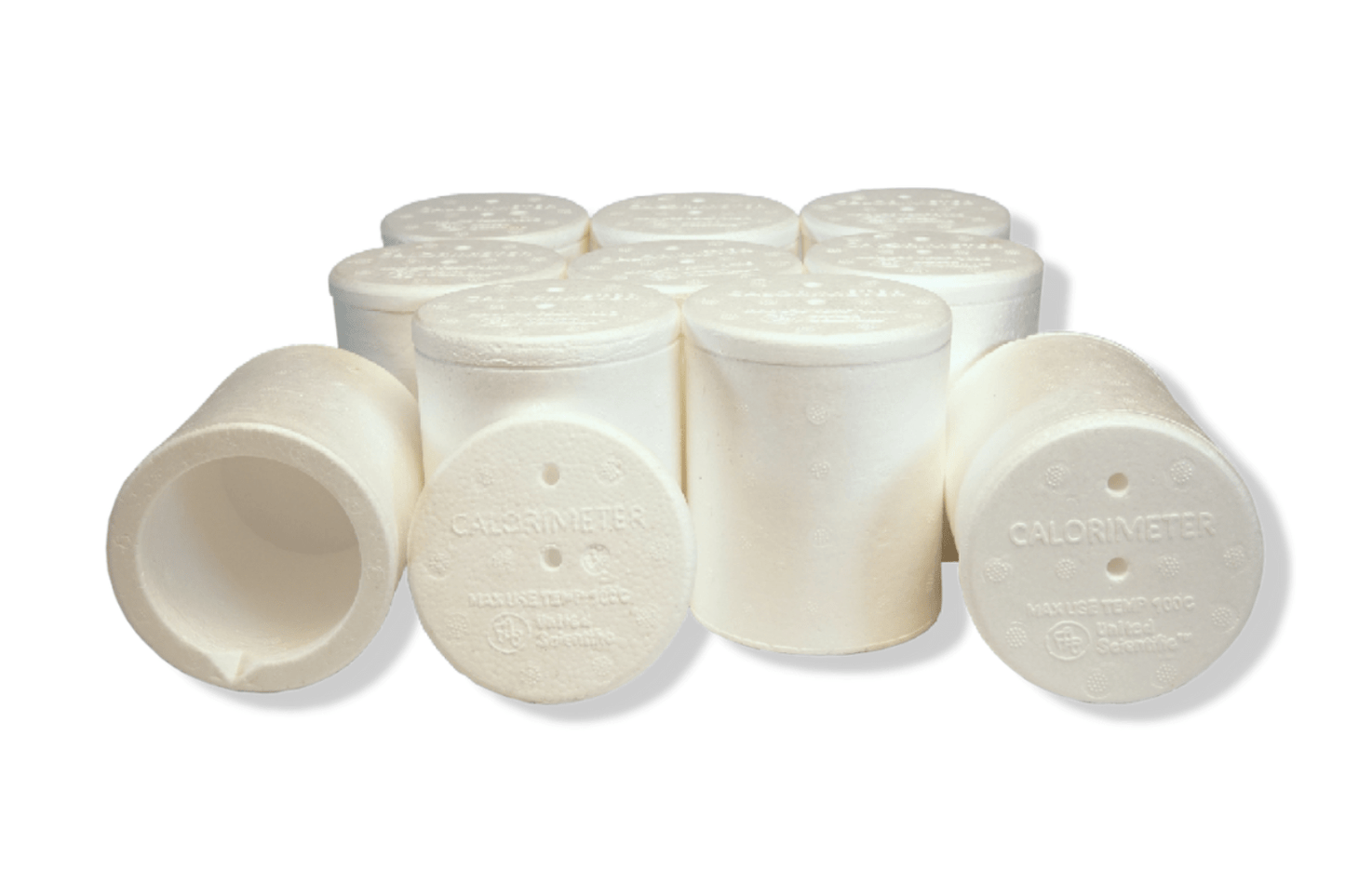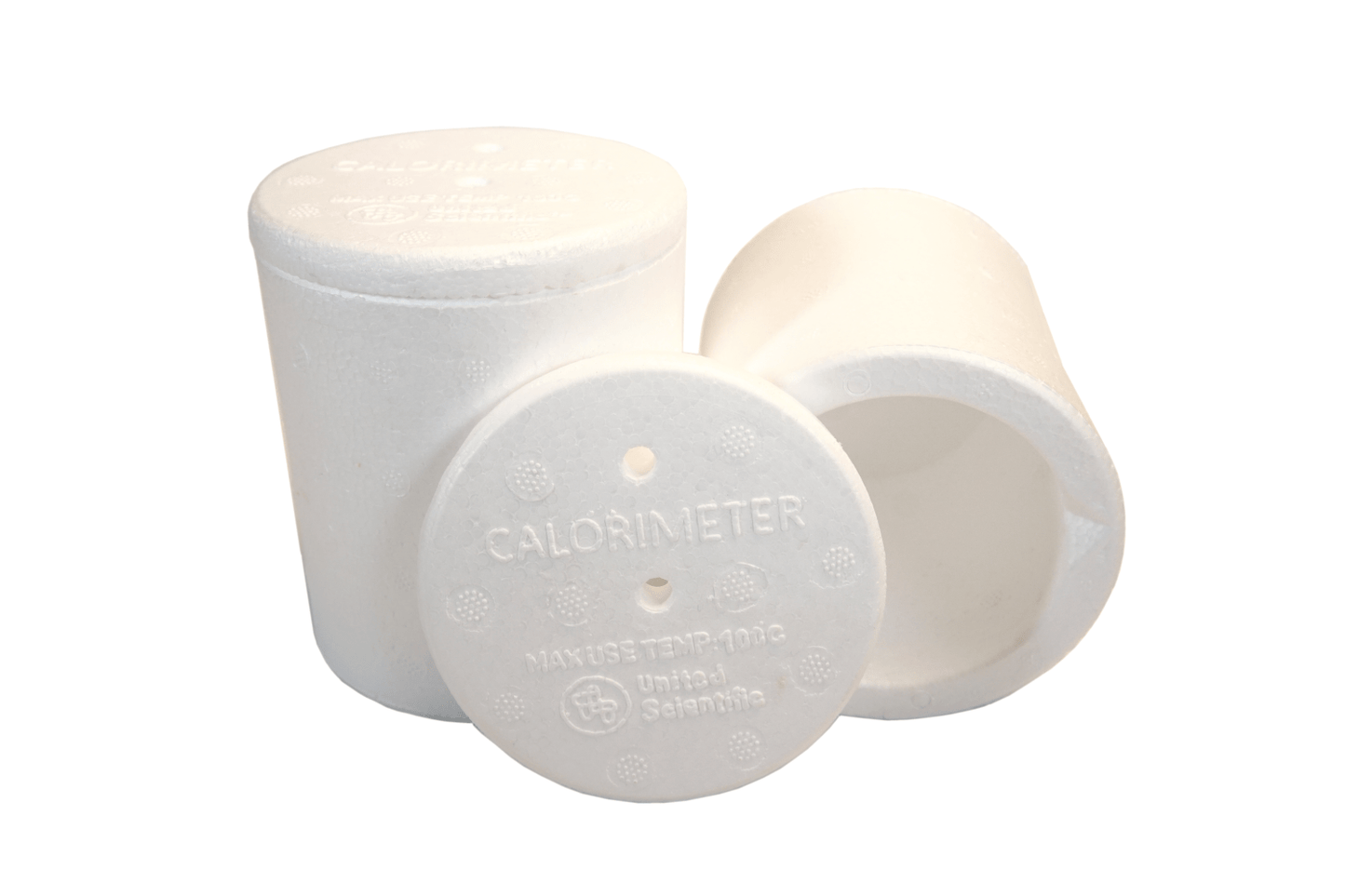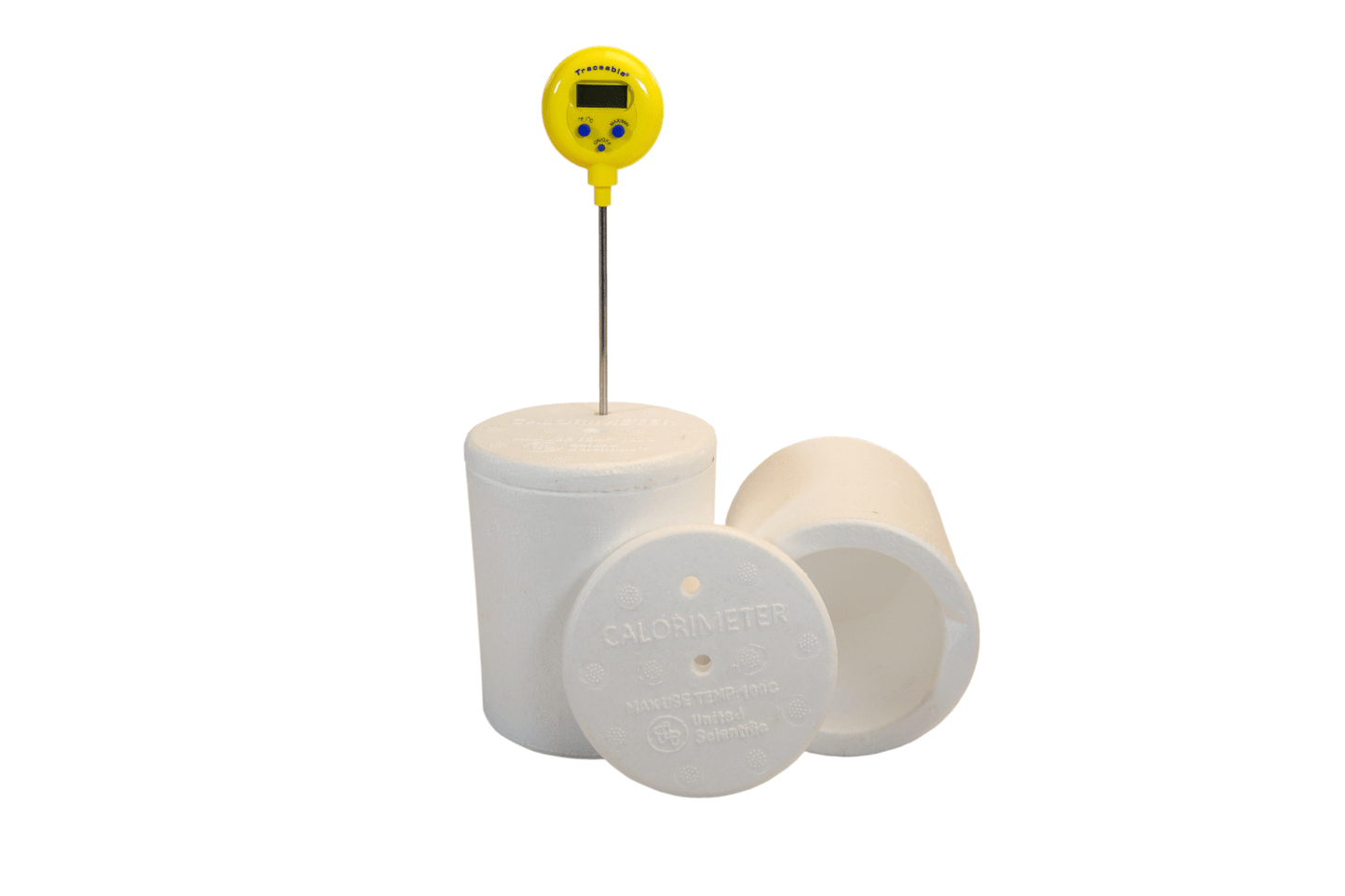 Other Options
Order
Qty
Price
Qty for
Discount
Discount
Price
Total
Savings
Calorimeter, Double Wall Electric Item #

93-2010

$28.00
6
$25.20

Calorimeter, Double Wall Electric

Item #93-2010

Regular price

Sale price

On Sale

$28.00

Unit price

per

Buy 6 and pay $25.20 each!

Carry out standard calorimetry experiments year after year with this robust and versatile double-wall calorimeter.

Item #

Regular price

From $19.99

Regular price

Sale price

On Sale

From $19.99

Unit price

per

Liquid error (snippets/modal-contents line 80): product form must be given a product
Additional Details
This set of 10 foam calorimeters offers an inexpensive improvement on coffee cup calorimetry experiments. 12 mm walls  ensure a well-insulated system that stands up to repeated use. A thick foam lid seats well to minimize the system's heat loss to its surroundings and features two small holes for use with a thermometer or data logger thermocouple. Our calorimeters also feature a flat, stable base to reduce accidents from stray elbows. Coffee cups are great for drinking coffee. But when it comes to calorimetry, cost-effective foam calorimeters are a safer and more accurate solution.
Products being sold are not toys. They are for Educational / Laboratory use only. They are not for use by children 12 and under.
What's Included
10 Foam calorimeters with Lids
Features & Specs
400 mL capacity with lid on
100°C max temperature
Molded-in spout for pouring out water after experiments
Two 6 mm holes for thermometer or stir rod
Dimensions:
12 mm wall thickness
100 mm OD
76 mm ID
90 mm deep
Accessories
Order Qty
Price
Qty for Discount
Discount Price
Total Savings
Digital Thermometer Item #

68-6300

$43.00
6
$40.40
Student Thermometer Item #

68-6202

$3.95
12
$3.70

Digital Thermometer

Item #68-6300

Regular price

Sale price

On Sale

$43.00

Unit price

per

Buy 6 and pay $40.40 each!

Waterproof, shockproof. Stainless steel probe. Each unit is calibrated and supplied with a certificate of calibration traceable to NIST. -50 to +300C, +/-1C.

Student Thermometer

Item #68-6202

Regular price

Sale price

On Sale

$3.95

Unit price

per

Buy 12 and pay $3.70 each!

A general purpose red alcohol thermometer with anti-roll sleeve. -20 to +110C (1 deg division), 305mm length.

Item #

Regular price

From $19.99

Regular price

Sale price

On Sale

From $19.99

Unit price

per

Liquid error (snippets/modal-contents line 80): product form must be given a product