Magnetic Accelerator
Item # P4-1365
Regular price
Sale price
On Sale

$28.00
Unit price
per
Sold out
Buy 6 and pay $26.30 each!
Is energy conserved in a magnetic field? Watch as students try to figure out this amazing demo.
In Stock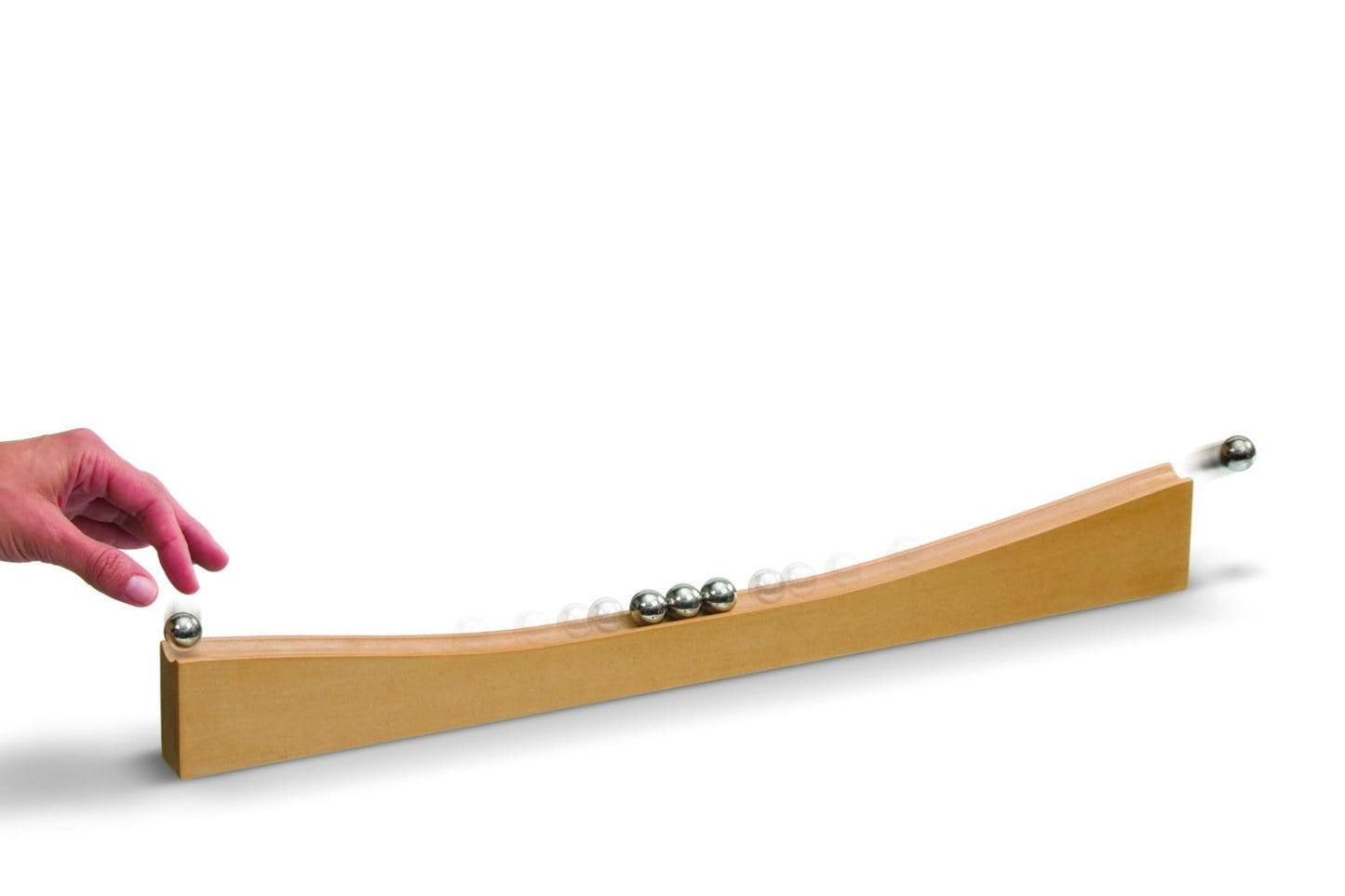 Additional Details
Newton would have loved this discrepant event!
A great introduction to the concept of magnetic potential energy. Using a double-sided ramp and a series of steel marbles, you initially demonstrate Newton's First Law by rolling one steel marble down the ramp to collide with a resting group of marbles. Not so impressive so far...
While setting up to repeat the demo, replace the first resting steel marble with a magnetic sphere. Your students will be amazed as the collision shoots the last steel marble right off the ramp!
Small Parts. Not for children under 3 years.
Products being sold are not toys. They are for Educational / Laboratory use only. They are not for use by children 12 and under.
What's Included
Wooden Ramp 22''
4 Steel Balls ¾ ''
Neodymium Magnet Sphere ¾ ""
Replacements
Order Qty
Price
Qty for Discount
Discount Price
Total Savings
Neodymium Magnet Sphere 0.75" Chrome Plated Item #

P8-1136

$9.95
20
$9.40
3/4" Steel Ball Item #

P1-5002

$1.00
50
$0.90

Neodymium Magnet Sphere 0.75" Chrome Plated

Item #P8-1136

Regular price

Sale price

On Sale

$9.95

Unit price

per

Buy 20 and pay $9.40 each!

Now we have the world's strongest magnets in new shapes! These 3/4 inch (19mm) diameter spheres are chrome plated for durability.

3/4" Steel Ball

Item #P1-5002

Regular price

Sale price

On Sale

$1.00

Unit price

per

Buy 50 and pay $0.90 each!

3/4" steel balls with chrome finish are great for doing Newtonian physics experiments such as collision or for use in mass/volume experiments.

Item #

Regular price

From $19.99

Regular price

Sale price

On Sale

From $19.99

Unit price

per

Liquid error (snippets/modal-contents line 80): product form must be given a product