Horizon Renewable Energy Education Set
Item # P4-2023
Regular price
Sale price
On Sale

$389.00
Unit price
per
Sold out
Use endlessly renewable solar power to create hydrogen fuel from water and learn the workings of a renewable energy system from start to finish. Explore clean energy sources and fuel cell technology.
In Stock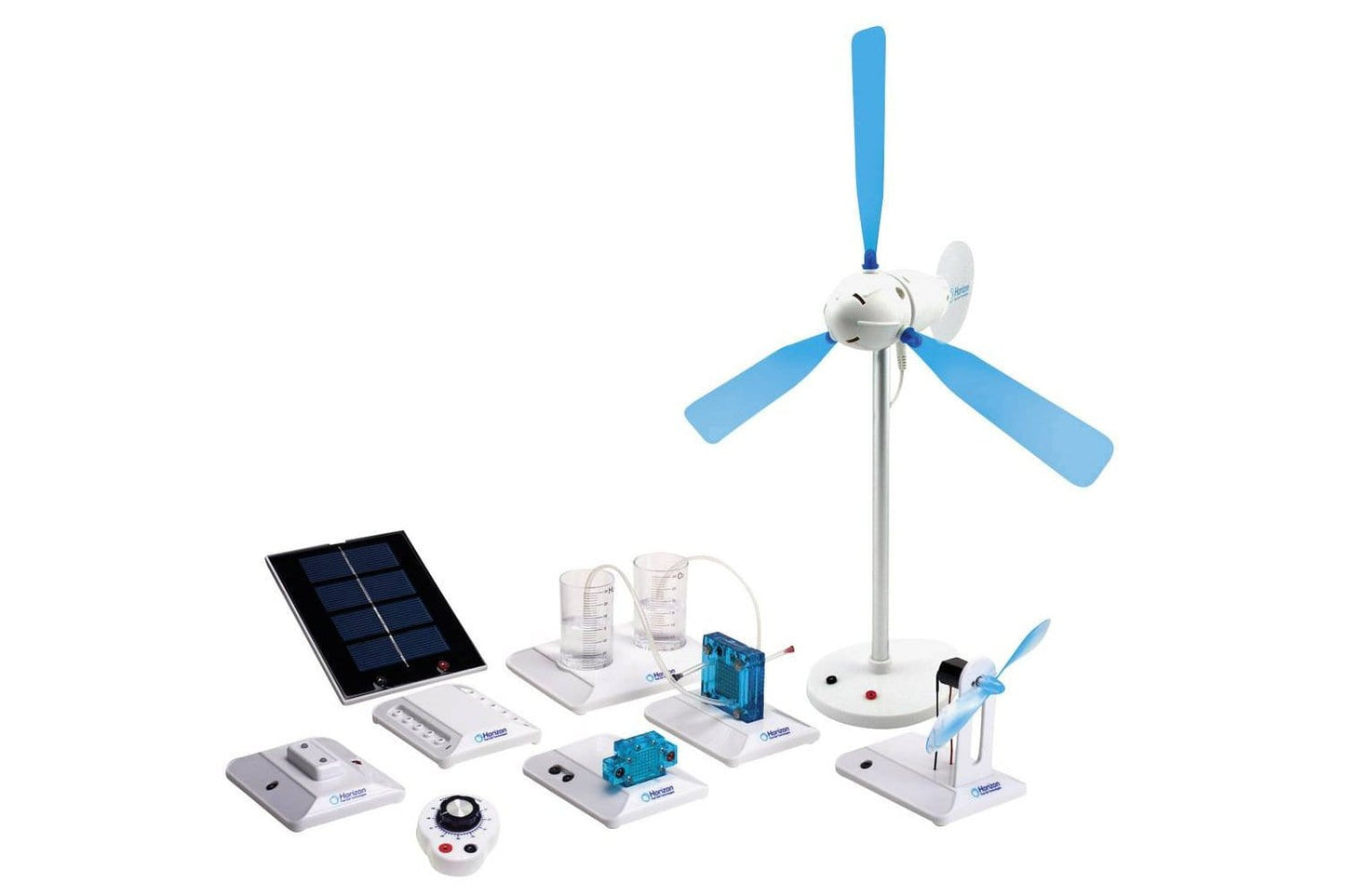 Additional Details
Renewable Energy Experiment Kit turns water into power!
Demonstrates the workings of a clean energy technology system on a miniature scale with this Renewable Energy Education Set. Renewable solar power is used to create hydrogen fuel from water. With this Horizon Educational kit, students can examine and study each module in this set separately and then combine them in different ways (or with other kits) to learn the workings of a renewable energy system from start to finish.
Power an electrical circuit using a solar panel or a wind turbine.
Generate hydrogen through water electrolysis and convert it into electricity using a PEM fuel cell.
 Whichever combination of technologies you want to explore, the Renewable Energy Education Set is a comprehensive introduction to the principles behind renewable microgrids.
Products being sold are not toys. They are for Educational / Laboratory use only. They are not for use by children 12 and under.
What's Included
Wind turbine body
Rotor head for profiled blades
9 profiled blades for turbine
Rotor head adapter for sheet blades
3 polypropylene sheet blades for turbine
Rotor unlocking tool
Turbine Support base
Aluminum wind turbine post
PEM Electrolyzer
PEM Electrolyzer base
PEM Fuel cell
PEM Fuel cell base
Hydrogen tank
Oxygen tank
Inner Gas containers
Circuit board module base
100 ohm Variable Resistor module
1 Watt Solar panel
Adaptors, tubing clincher & purging valve
Assembly instructions
CD with curriculum manuals
Water/gas tank module base
Flexible 2mm banana connecting leads
Transparent silicon tubing
Plastic plug pins for electrolyzer
Battery pack with connecting leads
Syringe
Features & Specs
Below table indicates expected RPM speed, current, voltage, and power when placing the WindPitch in constant wind speed of 10mph when connected to load of 50 Ohms. This level of resistance may be applied using common potentiometer or Horizon's variable resister module (included in Renewable Energy Education Set- FCJJ-37).
| | | | | | | | |
| --- | --- | --- | --- | --- | --- | --- | --- |
| Blade Type | No. of Blade | Wind Speed (mph) | Load (Ohm) | Output Voltage (V) | Output Current (mA) | Output Power (W) | Rotor Speed (RPM) |
| Blade A | 3 | 10 | 50 | 1.15 | 28 | 0.03 | 400 |
| Blade B | 3 | 10 | 50 | 1.35 | 30 | 0.04 | 490 |
| Blade C | 3 | 10 | 50 | 2.50 | 50 | 0.125 | 705 |
Accessories
Order Qty
Price
Qty for Discount
Discount Price
Total Savings
Horizon Energy Monitor Item #

P8-3600

$259.00

Horizon Energy Monitor

Item #P8-3600

Regular price

Sale price

On Sale

$259.00

Unit price

per

The Horizon Energy Monitor helps bring lab and field experiments back into the classroom. Voltage, current, power, joules, resistance and even RPM speed available at the touch of a button—displayed either on the LCD screen of the monitor itself or as graphical data on your PC

Item #

Regular price

From $19.99

Regular price

Sale price

On Sale

From $19.99

Unit price

per

Liquid error (snippets/modal-contents line 80): product form must be given a product
Conceptual Academy Videos