UV Beads, 1000/pk.
Item # P3-6505
Regular price
Sale price
On Sale

$21.00
Unit price
per
Sold out
Buy 10 and pay $19.50 each!
Our popular UV Beads, now in a package of 1000 beads!
In Stock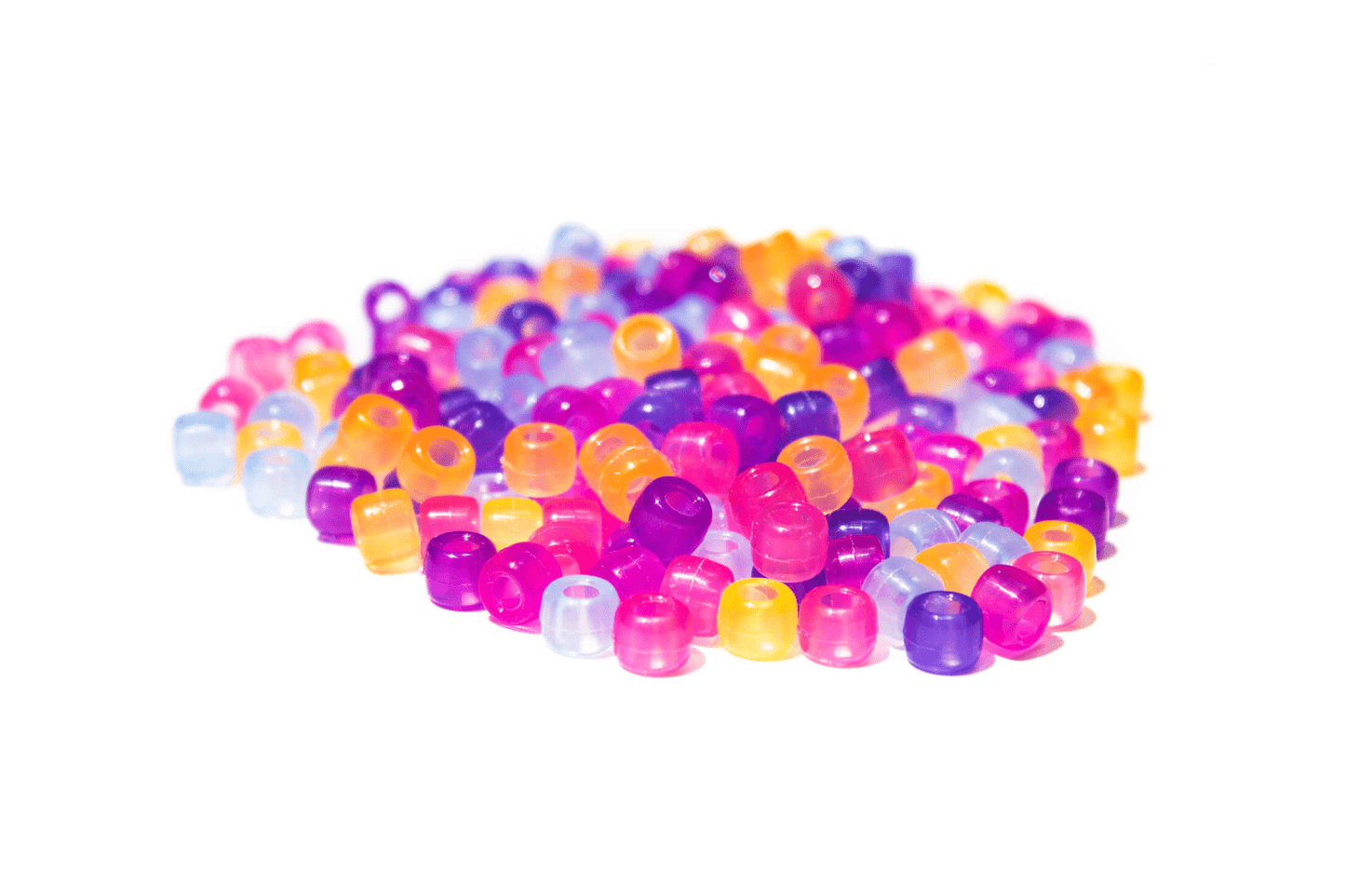 Additional Details
Our popular UV Beads, now in a package of 1000 beads!
These beads are sensitive to UV light and change from white to a bright array of colors when they are exposed to sunlight or UV rays. The dye molecules in the beads consist of two large planar conjugated systems that are orthogonal to one another. When high-energy UV light excites the central carbon atom, the two smaller parts form one large conjugated planar molecule. The resulting molecule is large enough to absorb certain wavelengths of visible light, resulting in a color.
The longer the conjugated chain, the longer the wavelength of light that is absorbed by the molecule. Heat from the surroundings provides the activation energy needed to return the planar form of the molecule back to its low energy orthogonal (colorless) structure. You'll want to try then with the UV Flashlight as well. Take them back indoors and they return to a white color. Great addition to your demos on light and color. A lesson suggestion: use the beads to test the ability for UV to pass through certain materials, such as window glass or sun-block. Approximately 1000 beads per pack.
Small Parts. Not for children under 3 years.
Accessories
Order Qty
Price
Qty for Discount
Discount Price
Total Savings
UV Flashlight Item #

92-9040

$5.95
6
$5.36
Portable UV-C Light Item #

93-6560

$29.00

Item #

Regular price

From $19.99

Regular price

Sale price

On Sale

From $19.99

Unit price

per

Liquid error (snippets/modal-contents line 80): product form must be given a product

UV Flashlight

Item #92-9040

Regular price

Sale price

On Sale

$5.95

Unit price

per

Buy 6 and pay $5.36 each!

Buy 50 and pay $4.95 each!

This simple and durable UV flashlight makes exploration of light energy easy! The flashlight's emission wavelength is 395 nm. 3x AAA batteries required.

Portable UV-C Light

Item #93-6560

Regular price

Sale price

On Sale

$29.00

Unit price

per

Simple and effective, this rechargeable UV-C light is a great companion for demonstrating the photoelectric effect. The 5 W lamp supplies UV light between 185 and 254 nm for approx. 45 minutes per charge.

Item #

Regular price

From $19.99

Regular price

Sale price

On Sale

From $19.99

Unit price

per

Liquid error (snippets/modal-contents line 80): product form must be given a product