Whiteboard 6 Pack
Item # 01-6000
Regular price
Sale price
On Sale

$115.00
Unit price
per
Sold out
Buy 10 and pay $109.00 each!
Classroom Modeling Whiteboards. Convenient 6 packs to supply your classroom!
In Stock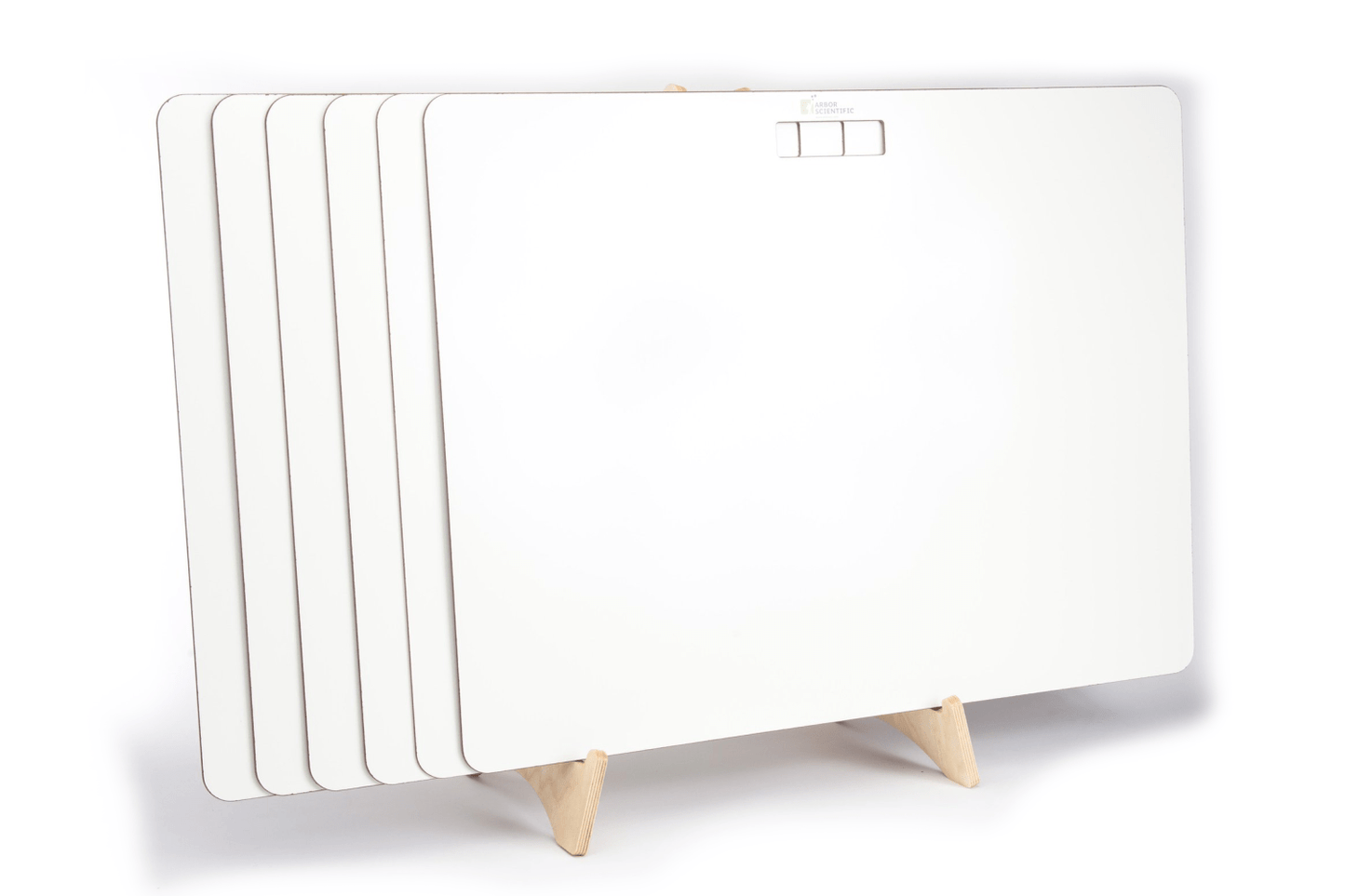 Additional Details
Classroom Modeling Whiteboards - Convenient 6 pack to supply your classroom!
Engage every student with Arbor Scientific's Whiteboards designed for great handling and easy maneuvering in the classroom. They are an essential component in promoting cooperation and critical thinking as these whiteboards are perfect for modeling, constructing lab write-ups, sharing experimental data, and presenting practice problems.
Arbor Scientific's Whiteboards are used by school teachers at all levels to check student understanding and make thinking visible and fun. They are mostly used in science classrooms with the modeling method of instruction or as vertical non-permanent surfaces. 
Please note: Our Whiteboard Storage/Presentation Easel (Item #01-6020) is sold separately.
Features & Specs
Features:
Erasability: High-Quality Melamine surface
Classroom-friendly: Made for heavy use in classroom size
Durability: Extra thickness and solid board back
Design: Rounded corners and Beveled edges to last longer
Interactivity: Rounded handles built in for easy maneuvering
Details: Six boards, 31.5" x 23.5" and ⅛" thick. For use only with dry erase markers. Available individually (see recommended products)
Accessories
Order Qty
Price
Qty for Discount
Discount Price
Total Savings
Whiteboard Storage/Presentation Easel Item #

01-6020

$69.00
Dry-Erase (Assorted) 4 Pack, Bullet Tips Item #

01-6010

$4.25
6
$4.00
Dry-Erase Black Markers - 12 Pack Item #

01-6012

$11.50
10
$10.30
Dry-Erase Eraser Item #

01-6015

$4.95
6
$4.70

Whiteboard Storage/Presentation Easel

Item #01-6020

Regular price

Sale price

On Sale

$69.00

Unit price

per

This Whiteboard Table Top Easel can be used on the table tops as well as the floor. The whiteboard easel is designed to store up to 18 Whiteboards on each side, making it the perfect classroom accessory.

Dry-Erase (Assorted) 4 Pack, Bullet Tips

Item #01-6010

Regular price

Sale price

On Sale

$4.25

Unit price

per

Buy 6 and pay $4.00 each!

Low-odor dry-erase 4 pack (red, bule, black, green) markers with a large bullet tip to apply ink smoothly and evenly.

Dry-Erase Black Markers - 12 Pack

Item #01-6012

Regular price

Sale price

On Sale

$11.50

Unit price

per

Buy 10 and pay $10.30 each!

Low-odor dry-erase 12 pack (black) markers with a large bullet tip to apply ink smoothly and evenly.

Dry-Erase Eraser

Item #01-6015

Regular price

Sale price

On Sale

$4.95

Unit price

per

Buy 6 and pay $4.70 each!

Dry-Erase Board Eraser with a sturdy black plastic top and a non-woven cloth pad that provides a smoother, dust absorbing and overall cleaner erasing.

Item #

Regular price

From $19.99

Regular price

Sale price

On Sale

From $19.99

Unit price

per

Liquid error (snippets/modal-contents line 80): product form must be given a product