Air Core Solenoid, 5A max
Item # P8-6600
Regular price
Sale price
On Sale

$37.00
Unit price
per
Sold out
Buy 6 and pay $34.80 each!
This solenoid apparatus is a must-have for any classroom studying magnetism, induction, or magnetic flux through a coil.
In Stock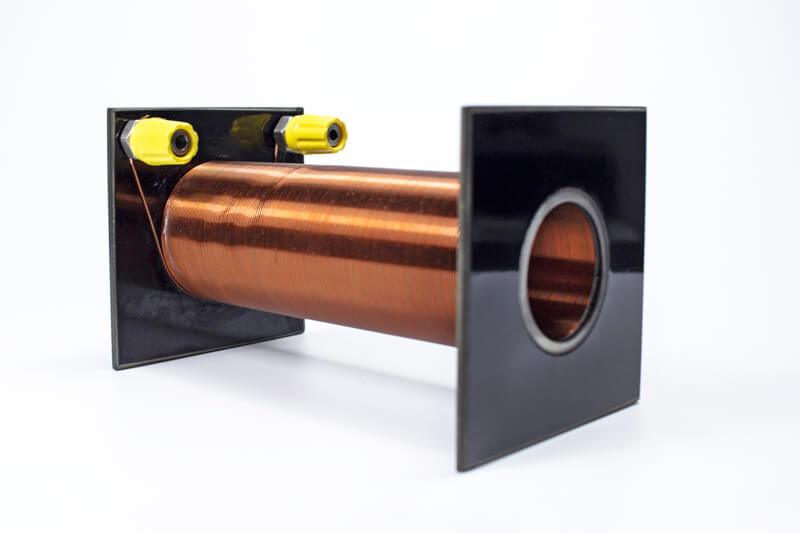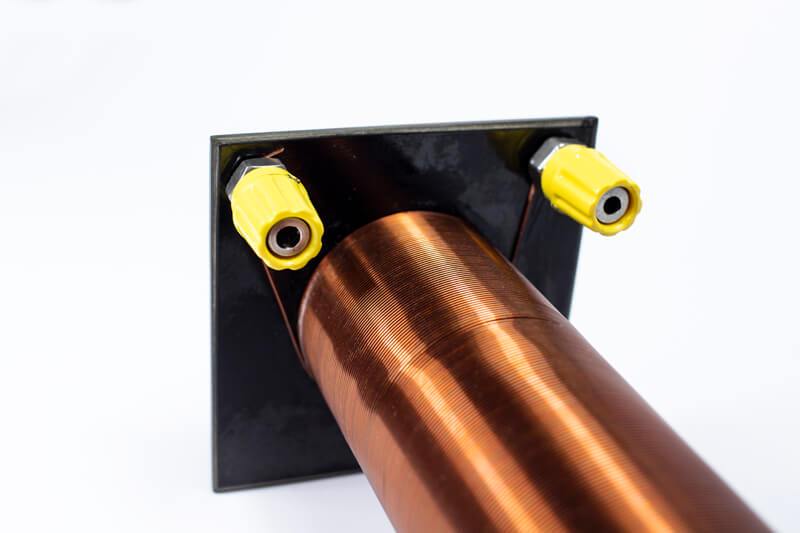 Additional Details
Running a current through this air-core solenoid can generate an external magnetic field for a variety of experiments in magnetism and electricity. Approximately 710 turns of enameled copper wire create an inductance of 5mH, powerful enough to attract small to medium sized ferromagnetic objects. To use, connect a power supply that outputs less than 5A of current to the solenoid.
Products being sold are not toys. They are for Educational / Laboratory use only. They are not for use by children 12 and under.
Features & Specs
~710 turns
Enameled copper wire, 23 AWG
12 V maximum voltage
5mH inductance
6.25Ω DC resistance
Supports 5A intermittent current and 1.6A continuous current
5.10" (13.0 cm) coil length
5.35" (13.6 cm) overall length
1.7" (4.4 cm) outer coil diameter
1.24" (3.15 cm) inner coil diameter
3" x 3" (7.6 cm x 7.6 cm) base
370 grams
Accessories
Order Qty
Price
Qty for Discount
Discount Price
Total Savings
Alligator Leads, 24" (Pack of 10) Item #

P4-3000

$5.70
20
$5.10
Galvanometer -500-0-500 MicroAmp µA Item #

P4-1208

$15.00
10
$13.80
Genecon Hand Crank Generator Item #

P6-2631

$45.00
12
$41.80
Alnico Bar Magnet Pair, 6 in. Item #

P8-1127

$20.00
20
$18.80
Small Clear Compasses 20 pack Item #

P8-1170

$20.00
10
$18.80
AC/DC Precision Variable Power Supply Item #

P4-3300

$379.00
6
$356.00

Alligator Leads, 24" (Pack of 10)

Item #P4-3000

Regular price

Sale price

On Sale

$5.70

Unit price

per

Buy 20 and pay $5.10 each!

Pack of 10 Alligator Leads contains 5 red and 5 black leads.

Galvanometer -500-0-500 MicroAmp µA

Item #P4-1208

Regular price

Sale price

On Sale

$15.00

Unit price

per

Buy 10 and pay $13.80 each!

Measure very small amounts of current supplied by your voltaic cell or magnetic induction experiment.

Genecon Hand Crank Generator

Item #P6-2631

Regular price

Sale price

On Sale

$45.00

Unit price

per

Buy 12 and pay $41.80 each!

Ideal as a battery replacement for a wide variety of basic electricity experiments, the Genecon generator is a low voltage power source that lets you create electrical current by simply turning a crank.

Alnico Bar Magnet Pair, 6 in.

Item #P8-1127

Regular price

Sale price

On Sale

$20.00

Unit price

per

Buy 20 and pay $18.80 each!

Pair of Alnico Bar Magnets (150 x 12 x 7 mm)

Small Clear Compasses 20 pack

Item #P8-1170

Regular price

Sale price

On Sale

$20.00

Unit price

per

Buy 10 and pay $18.80 each!

Here's an easy way to demonstrate magnetic fields in class. Simply use these small, clear-cased compasses to map magnetic fields by placing them around different shaped magnets.

AC/DC Precision Variable Power Supply

Item #P4-3300

Regular price

Sale price

On Sale

$379.00

Unit price

per

Buy 6 and pay $356.00 each!

A light weight, energy efficient, fully regulated, continuously variable DC power supply 0-15V up to 8A. It also supplies 6 and 12V AC at up to 1.5A.

Item #

Regular price

From $19.99

Regular price

Sale price

On Sale

From $19.99

Unit price

per

Liquid error (snippets/modal-contents line 80): product form must be given a product