Magnetic Stirrer and Hot Plate with Stir Bar
Item # C5-1550
Regular price
Sale price
On Sale

$155.00
Unit price
per
Sold out
Buy 6 and pay $146.00 each!
This Magnetic Stirrer and Hotplate features a chemical resistant cast aluminum heating surface.
In Stock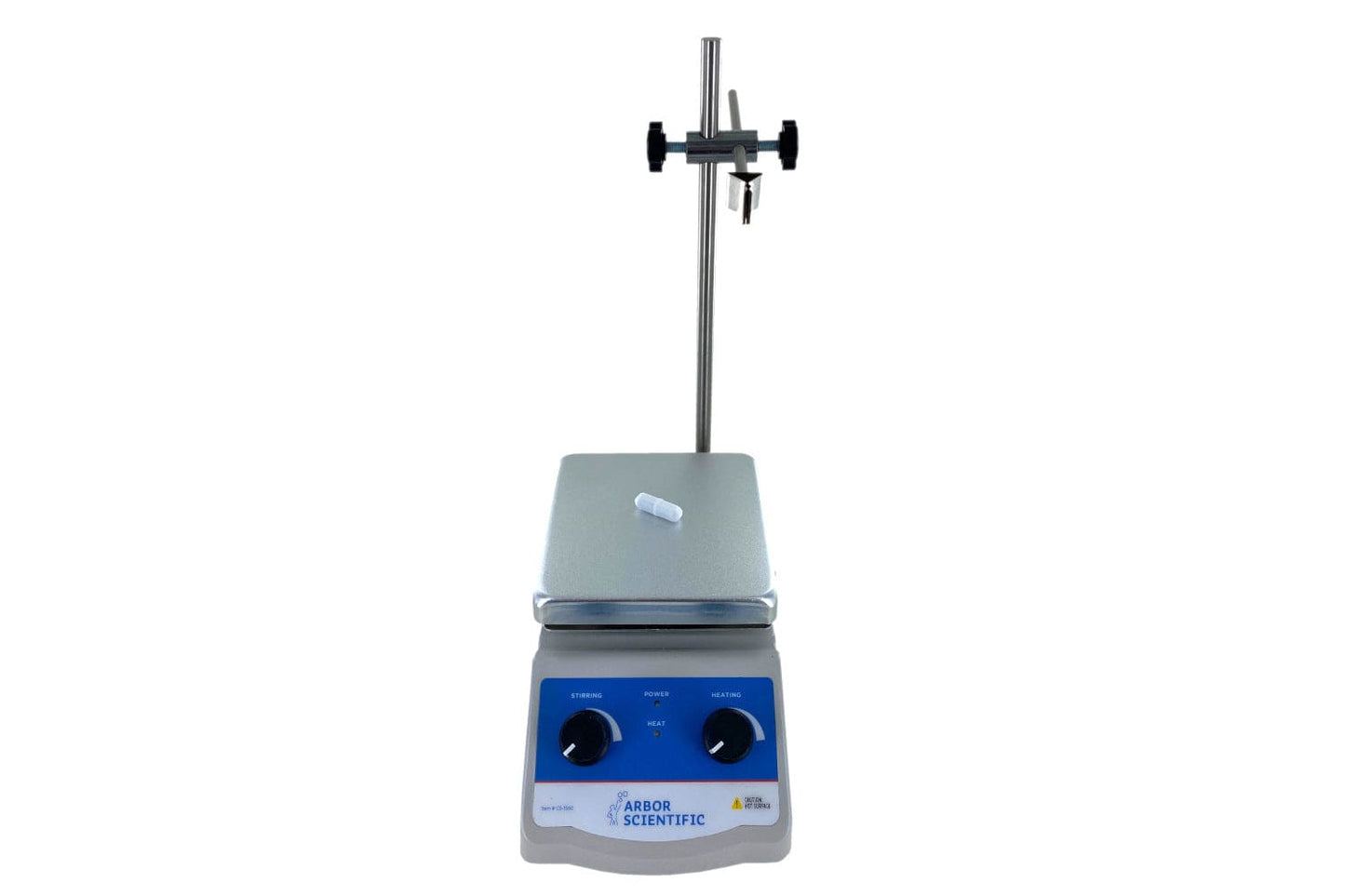 Additional Details
This Magnetic Stirrer with Hotplate is widely used for the simultaneous stirring and heating of liquids. The stirring speed and temperature are regulated from the front panel with separate dials. Indicator lights inform users at a glance if either control is active.  The totally enclosed, 5″ (125 mm) x 5″ (125 mm), cast aluminum heating surface resists chemical spills.


Products being sold are not toys. They are for Educational / Laboratory use only. They are not for use by children 12 and under.
Features & Specs
Detachable 300 mm (12″) support bar with a clamp for thermometer or pH probe

Detachable power cord measuring 1.5 m (5.5 ft) long

Stirring capacity is up to 500 ml (16.9 oz) with a strong vortex

110 V-250 V

180 W

Temperature max: 250°C (480°F)

RPM 120-1600

Instructions
Accessories
Order Qty
Price
Qty for Discount
Discount Price
Total Savings
Borosilicate Beakers Group Item #

borosilicate_beakers_group

$0.00
Borosilicate Graduated Cylinders Group Item #

borosilicate_graduated_cylinders_group

$0.00
Basic Lab Supply Pack Item #

C3-3000

$89.00
6
$83.50
Safety Goggles Item #

C5-1020

$10.40
Safety Glasses Item #

C5-1030

$4.95
12
$4.50
Digital Thermometer Item #

68-6300

$43.00
6
$40.40
Economy Triple Beam Balance Item #

02-7600

$99.00
6
$93.00

Basic Lab Supply Pack

Item #C3-3000

Regular price

Sale price

On Sale

$89.00

Unit price

per

Buy 6 and pay $83.50 each!

Whether you're setting up a new lab or restocking an existing one, here are all of the basic supplies needed, all in one convenient pack. Includes basic chemistry or physical science equipment for student group.

Safety Goggles

Item #C5-1020

Regular price

$14.00

Sale price

On Sale

$10.40

Unit price

per

Chemical splash safety goggles with high impact lenses covering the entire eye area. Side hooded vents provide indirect ventilation and are anti-fogging.

Safety Glasses

Item #C5-1030

Regular price

Sale price

On Sale

$4.95

Unit price

per

Buy 12 and pay $4.50 each!

Buy 100 and pay $4.00 each!

Classic design, universal, comfortable fit, and maximum eye protection make these glasses the best in protection and style.

Digital Thermometer

Item #68-6300

Regular price

Sale price

On Sale

$43.00

Unit price

per

Buy 6 and pay $40.40 each!

Waterproof, shockproof. Stainless steel probe. Each unit is calibrated and supplied with a certificate of calibration traceable to NIST. -50 to +300C, +/-1C.

Economy Triple Beam Balance

Item #02-7600

Regular price

Sale price

On Sale

$99.00

Unit price

per

Buy 6 and pay $93.00 each!

This economy triple-beam lets you equip each student lab station on a budget.