NexGen Spectrum Tube Classroom Bundle
Item # P2-9902
Regular price
Sale price
On Sale

$611.00
Unit price
per
Sold out
Buy 6 and pay $570.00 each!
The NexGen Spectrum Tube Classroom Bundle offers a safe and seamless way to study the gas emission spectra of eight included spectrum tubes.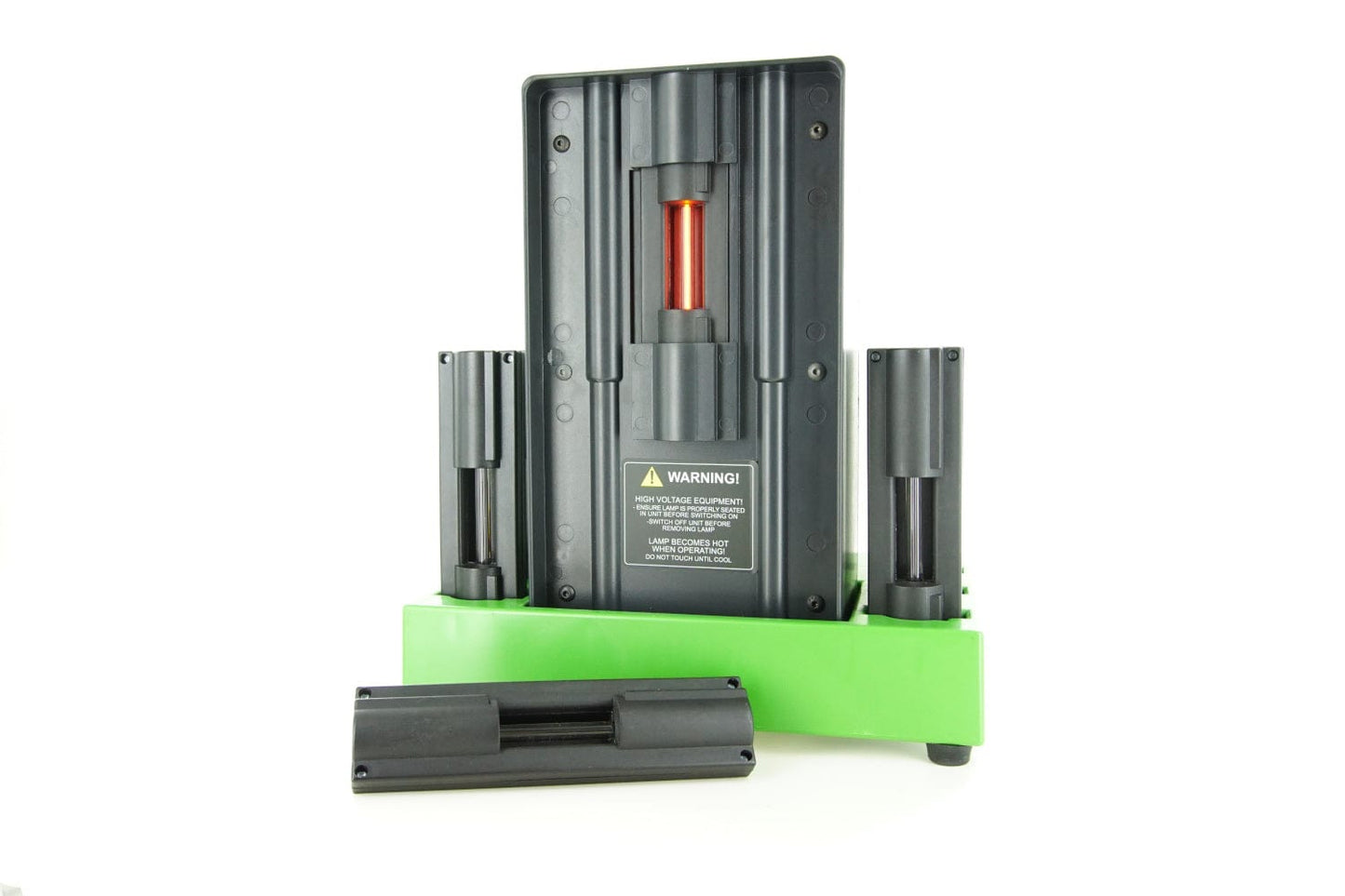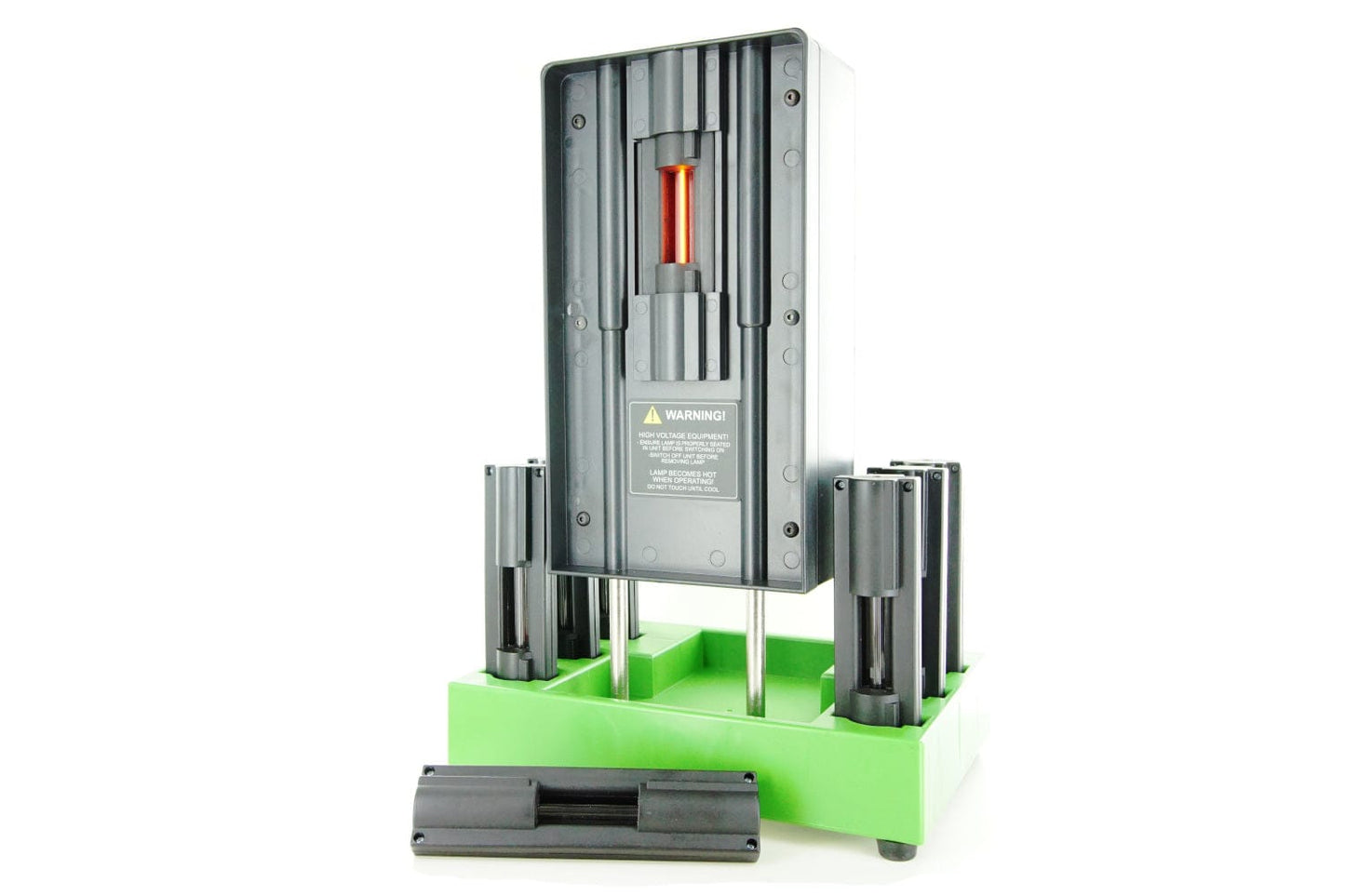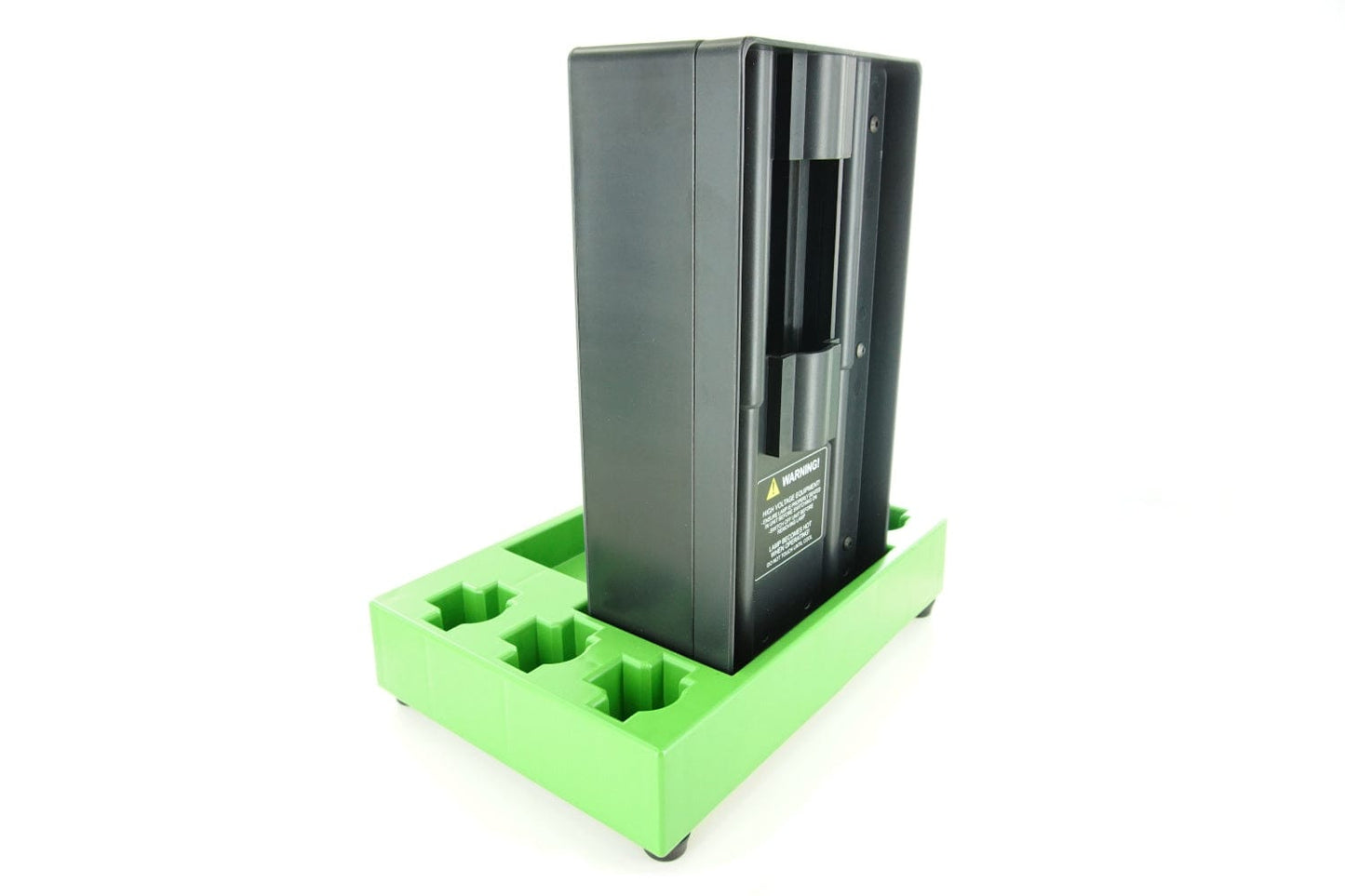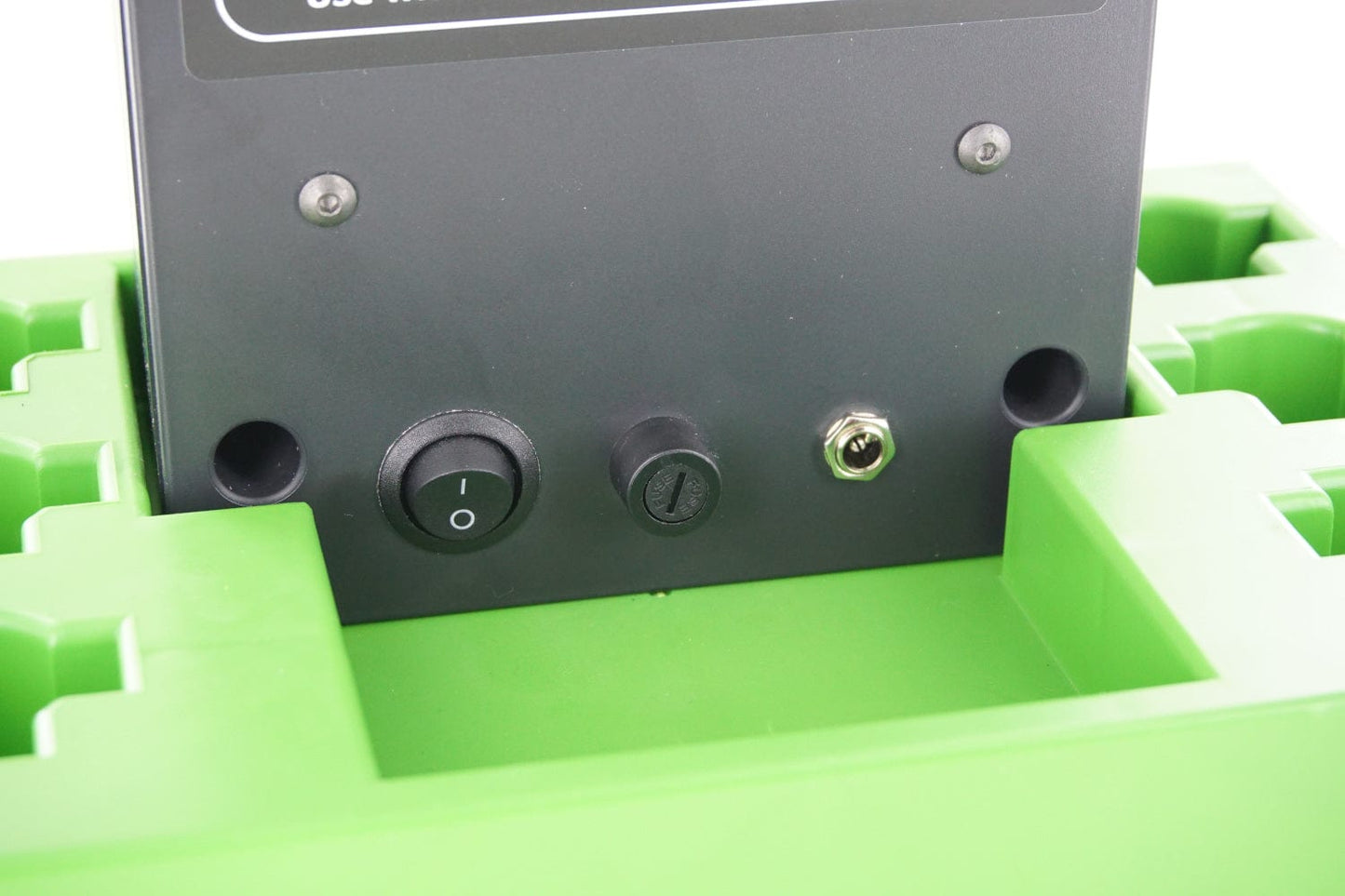 Other Options
Order
Qty
Price
Qty for
Discount
Discount
Price
Total
Savings
Spectrum Analysis Classroom Bundle Item #

P2-9502

$510.00
6
$485.00

Spectrum Analysis Classroom Bundle

Item #P2-9502

Regular price

Sale price

On Sale

$510.00

Unit price

per

Buy 6 and pay $485.00 each!

A classic atomic theory demonstration! Energize the gas and view the characteristic atomic spectral lines with any spectroscope. This complete bundle comes with 13 different gas spectrum tubes and a power supply.

Item #

Regular price

From $19.99

Regular price

Sale price

On Sale

From $19.99

Unit price

per

Liquid error (snippets/modal-contents line 80): product form must be given a product
Additional Details
The NexGen Spectrum Tube Classroom Bundle offers a safer power supply that runs eight gas spectrum tubes (included). Seamlessly switch from one gas to another by sliding the polymer-enclosed spectrum tubes out of the energizing slot and sliding the next one in.
The NexGen Spectrum Tube System offers a considerable improvement in safety, convenience, and tube life over conventional systems. Conventional spectrum tubes require a "30 seconds on, 30 seconds off" power cycle, but these "electrodeless" tubes does not have that limitation. This feature lets students take their time measuring spectral emissions. Unlike other designs, the system has no exposed high voltage to eliminate the risk of electric shock, and the built-in magnetic interlock system prevents the spectrum tube from being energized unless the tube is correctly inserted.
Spectrum tubes that have not been energized for an extended period of time may not strike right away. It is normal for the tube to take up to 3 minutes to strike for the first time.
 Please note, make sure to turn the power switch off before removing or exchanging tubes.
Products being sold are not toys. They are for Educational / Laboratory use only. They are not for use by children 12 and under.
What's Included
NexGen Power Supply
Power Adapter
8 NexGen Spectrum Tubes: air, argon, carbon dioxide, helium, hydrogen, neon, nitrogen, and water
Instructional Guide
Features & Specs
Power Supply Specifications:
Power Supply: 100-to 240 V AC. 50/60 Hz, 0.3 A
Power Output: 15 V DC, 1 A
Fuse: T1 AL 250 V, 5 X 20 mm miniature, time delay
Dimensions: 26 cm x 18 cm x 30-38 cm high
Material: Polymer Plastic
Accessories
Order Qty
Price
Qty for Discount
Discount Price
Total Savings
RSpec Explorer Item #

P2-9505

$395.00
6
$379.00
Quantitative Spectroscope Item #

P2-7061

$10.00
12
$9.00
Periodic Table of Spectra Item #

P2-7068

$29.95
10
$28.50
Project STAR Spectrometer Item #

P2-7055

$36.00
6
$33.80

RSpec Explorer

Item #P2-9505

Regular price

Sale price

On Sale

$395.00

Unit price

per

Buy 6 and pay $379.00 each!

Digitally capture an individual spectrum, and then compare it to a series of known spectra! The included camera and software make this an easy and inexpensive solution to studying quantitative spectral data in the classroom.

Quantitative Spectroscope

Item #P2-7061

Regular price

Sale price

On Sale

$10.00

Unit price

per

Buy 12 and pay $9.00 each!

Use this durably constructed, economical tool to see and measure different spectra. Brighter and clearer than other spectroscopes. A built in scale measures light wavelengths from 400nm to 700nm with a precision of +/- 5 nm.

Periodic Table of Spectra

Item #P2-7068

Regular price

Sale price

On Sale

$29.95

Unit price

per

Buy 10 and pay $28.50 each!

This colorful Periodic Table of Spectra allows your students to clearly see that each element has its own fingerprint. This 1.5 mil laminated poster is 24″ x 36″ and is a high-quality, high-resolution print with brilliant colors.

Project STAR Spectrometer

Item #P2-7055

Regular price

Sale price

On Sale

$36.00

Unit price

per

Buy 6 and pay $33.80 each!

Explore flame spectra, streetlights and solar spectra with this dependable device. Since it is labeled in electron volts and nanometers, you can use it in both your physics and chemistry labs.

Item #

Regular price

From $19.99

Regular price

Sale price

On Sale

From $19.99

Unit price

per

Liquid error (snippets/modal-contents line 80): product form must be given a product
Replacements
Order Qty
Price
Qty for Discount
Discount Price
Total Savings
NexGen Spectrum Tube, Air Item #

P2-9900-01

$44.00
6
$40.50
NexGen Spectrum Tube, Argon Item #

P2-9900-02

$44.00
6
$40.50
NexGen Spectrum Tube, Carbon Dioxide Item #

P2-9900-03

$44.00
6
$40.50
NexGen Spectrum Tube, Helium Item #

P2-9900-04

$44.00
6
$40.50
NexGen Spectrum Tube, Hydrogen Item #

P2-9900-05

$44.00
6
$40.50
NexGen Spectrum Tube, Neon Item #

P2-9900-06

$44.00
6
$40.50
NexGen Spectrum Tube, Nitrogen Item #

P2-9900-07

$44.00
6
$40.50
NexGen Spectrum Tube, Water Vapor Item #

P2-9900-08

$44.00
6
$40.50
NexGen Spectrum Tube Power Supply Item #

P2-9910

$275.00
6
$261.00

NexGen Spectrum Tube, Air

Item #P2-9900-01

Regular price

Sale price

On Sale

$44.00

Unit price

per

Buy 6 and pay $40.50 each!

The Air Spectrum Tube is for use with NexGen Spectrum Tube Power Supply. Each spectrum tube is protected against accidental breakage by a hard polymer shell and offers extended life by having no internal electrodes.

NexGen Spectrum Tube, Argon

Item #P2-9900-02

Regular price

Sale price

On Sale

$44.00

Unit price

per

Buy 6 and pay $40.50 each!

These tubes are for use with NexGen Spectrum Tube Power Supply. The spectrum tubes in the Carousel system offer extended life by having no internal electrodes and are protected against accidental breakage by a hard polymer shell. Spectroscopy Tube length is approx. 15.5 cm.

NexGen Spectrum Tube, Carbon Dioxide

Item #P2-9900-03

Regular price

Sale price

On Sale

$44.00

Unit price

per

Buy 6 and pay $40.50 each!

The Carbon Dioxide Spectrum Tube is for use with NexGen Spectrum Tube Power Supply. Each spectrum tube is protected against accidental breakage by a hard polymer shell and offers extended life by having no internal electrodes.

NexGen Spectrum Tube, Helium

Item #P2-9900-04

Regular price

Sale price

On Sale

$44.00

Unit price

per

Buy 6 and pay $40.50 each!

These tubes are for use with NexGen Spectrum Tube Power Supply. Each spectrum tube is protected against accidental breakage by a hard polymer shell and offers extended life by having no internal electrodes.

NexGen Spectrum Tube, Hydrogen

Item #P2-9900-05

Regular price

Sale price

On Sale

$44.00

Unit price

per

Buy 6 and pay $40.50 each!

These tubes are for use with NexGen Spectrum Tube Power Supply. The NexGen spectrum tubes offer extended life by having no internal electrodes and are protected against accidental breakage by a hard polymer shell. Spectroscopy Tube length is approx. 15.5 cm.

NexGen Spectrum Tube, Neon

Item #P2-9900-06

Regular price

Sale price

On Sale

$44.00

Unit price

per

Buy 6 and pay $40.50 each!

These tubes are for use with NexGen Spectrum Tube Power Supply. The NexGen spectrum tubes offer extended life by having no internal electrodes and are protected against accidental breakage by a hard polymer shell. Spectroscopy Tube length is approx. 15.5 cm.

NexGen Spectrum Tube, Nitrogen

Item #P2-9900-07

Regular price

Sale price

On Sale

$44.00

Unit price

per

Buy 6 and pay $40.50 each!

These tubes are for use with NexGen Spectrum Tube Power Supply. The NexGen spectrum tubes offer extended life by having no internal electrodes and are protected against accidental breakage by a hard polymer shell. Spectroscopy Tube length is approx. 15.5 cm.

NexGen Spectrum Tube, Water Vapor

Item #P2-9900-08

Regular price

Sale price

On Sale

$44.00

Unit price

per

Buy 6 and pay $40.50 each!

These tubes are for use with NexGen Spectrum Tube Power Supply. The NexGen spectrum tubes offer extended life by having no internal electrodes and are protected against accidental breakage by a hard polymer shell. Spectroscopy Tube length is approx. 15.5 cm.

NexGen Spectrum Tube Power Supply

Item #P2-9910

Regular price

Sale price

On Sale

$275.00

Unit price

per

Buy 6 and pay $261.00 each!

The NexGen Spectrum Tube Power Supply offers a considerable improvement in safety, convenience, and tube life over conventional systems. It consists of a power supply and tube storage unit which holds up to 7 spectrum tubes.

Item #

Regular price

From $19.99

Regular price

Sale price

On Sale

From $19.99

Unit price

per

Liquid error (snippets/modal-contents line 80): product form must be given a product